Infertility Medicine Company in Sakti, Sarangarh, and Korba – Are you looking for a company that can provide you with the best infertility medicine in Sakti, Sarangarh, and Korba? Do you want to start your own PCD Pharma Franchise in the Infertility Medicine Range anywhere in these three locations? If yes, you are in the right place.
In this blog, we will discuss one of the leading Pharma Infertility Medicine Companies in Sakti, Sarangarh, and Korba that helps you to get the best franchise deals at a fair price.  Infertility and Gynae businesses are a growing sector in the pharma industry. The reason is 20 percent of women are suffering from these problems.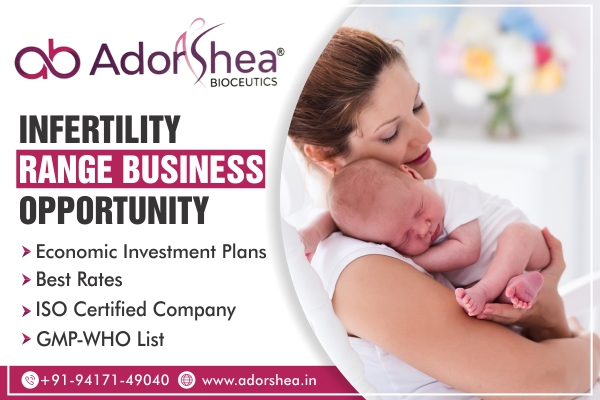 The best and leading infertility medicine provider company name is Adorshea. This company is famous for Gynecology and infertility Medicines. This company is Certified by ISO and approved by DCGI. This company provides you with the best high-quality medicine at very genuine prices. Within a few years, they built franchising potential in the pharma sector for the gynecological product line. This company provides a very wide range of gynae products to franchise partners. Join Adorshea today to benefit from the mutual agreement for a PCD franchise for infertility drugs in India. If you have the plan to start your own business in the pharma industry  Adorshea helps you to establish your franchise company in these locations. At a very affordable price, you do not need a high amount of money to fulfill your dreams and become a pharma company owner. 
Different Range Of Infertility Medicine Covered By Our Company | Adorshea
In 2023 the number of gynecological products will be increased and that is the right time to start an infertility business in your area. Adorshea provides high-quality products all over India. Adorshea is an ISO-certified company and is approved by DCGI. We always try to provide high-quality products to our buyers. Here is the list of our products and Drugs manufactured by our firm.
| | | | |
| --- | --- | --- | --- |
| Aqua Progesterone 25mg Injection | Cabergoline 0.5mg Tablets. | Calcium Citrate Malate | Vitamin D3 |
| Folic Acid Tablets | Cholecalciferol 60000 IU Nano Shots. | Coral Calcium 750 mg + Vitamin D3 500IU Capsules. | Desogestrel and Ethinyl Estradiol Tablets. |
| Dienogest and Ethinyl Estradiol Tablet. | Drotaverine and Mefenamic Acid Tablets. | Drotaverine Injection (2ml). | Estradiol Hemihydrate Tablets. |
Why Choose Adorshea To Start a Pharmaceutical Infertility Medicine Business in Sakti, Sarangarh, and Korba
Adorshea has been a dedicated Gynae PCD Company for the last five years. We are working with 500-plus franchise partners. We welcome anyone who wants to start an infertility business in your own area. We provide our franchise all over India. We have a large variety of Gynae products. We always focused on our product quality. We always try to provide high-quality products in a genuine price range. we have expert pharma scientists for first-right-time formulation. 
There are so many benefits to choosing Adorshea. You can sell our medicine at a high-profit margin in the US. You can establish your pharma business in the US without any hassle. We provide all Unique Monopoly Rights to our franchise holders. If you join Adorshea our team will help you to grow your business from scratch. 
Conclusion
Adorshea is an Infertility Medicine Company in Sakti, Sarangarh, and Korba offering high-quality fertility medications and hormones to improve pregnancy chances. Infertility is a disorder of the male or female reproductive system and this disorder is increasing day by day. As per our recommendation, this is the right time to enter this business. Below we will provide our contact information and let you start your journey with us.
Contact information 
SCO 1, Cheema Complex, Preet Colony, Near IDBI Bank, Chd-Amb, Highway, Zirakpur.(SAS Nagar) – 140603
 +91-6280185695
 +91-94174 66020
 adorshea.in