Infertility Medicine Company in Jaipur- Jaipur is one of the fastest-growing cities in India. The people of Jaipur have healthy lifestyles and are technologically evolved, yet most people are still unaware of male and female infertility, and the cases of infertility and gynae issues are on the rise. Moreover, the market demand for infertility medications is rising day by day. Many of the pharmaceutical companies have now started manufacturing gynae and infertility medicines. Adorshea is one of the top Infertility Medicine Company in Jaipur and continues making an effort to provide top quality infertility medicines in the market. 
With the rise in the cases of infertility in males and females, the demand for IVF and infertility medications has arisen in Jaipur. People have been spending money on high-quality fertility drugs and hormones to increase their chances of getting pregnant. Adorshea is the one of the best suppliers of IVF and infertility medications in Jaipur. Following WHO-GMP guidelines our company prioritizes quality and customer satisfaction. Our company is dedicated to the best gynae and infertility product management and wellbeing of the women. Our company is recognized as the best Infertility Medicine Company in Jaipur that brings to you a colossal range of highly demanded gynae range in the form of Injections, Tablets, Capsules, Shots, and much more. We are an ISO-registered pharmaceutical organization that is providing all pharma aspirants, medical representatives, and business seekers an amazing opportunity to set up their own businesses in a budget-friendly manner.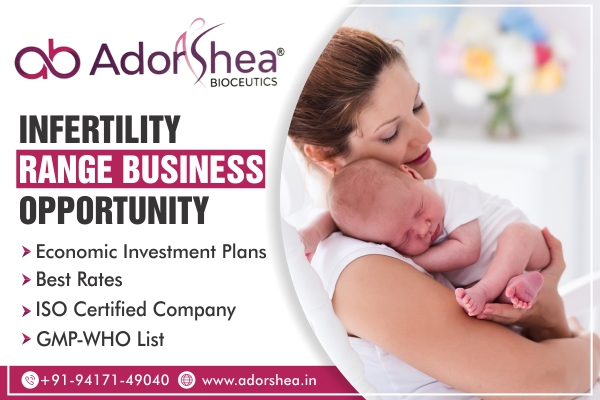 To know more about Infertility Medicine Company, you can contact us by calling at +91-6280185695, or +91-9417466020 or write us an email at adorshea19@gmail.com for more information. 
Most Efficient IVF and Infertility Medicine Company in Jaipur- Adorshea 
Adorshea Bioceutics, the most reputable pharmaceutical firm in the area and a sign of quality and confidence, offers you a mind-blowing selection of gynecological and infertility medications without sacrificing quality. We are the premier pharmaceutical company in the state, known for our extensive selection of gynecological drugs and our lucrative business dealings.
A dedicated team of gynecologists and healthcare professionals support the business and keep a close eye on every step of the process, from production to shipping. You can create better products and ensure a successful future in the business by collaborating with us. Here are the key highlights of Adorshea as the leading infertility medicine company in Jaipur:
We have our own GMP-WHO certified manufacturing units

DCGI approved product portfolio

The company has the most reliable and powerful logistic channel

The company is associated with thousands of healthcare professionals 
Targeted Key Locations for Infertility Medicine Company in Jaipur 
Adorshea has made its strong presence as the best Infertility Medicine Company in a very short period of time. And right now our main focus is Jaipur, we provide genuine and transparent business deals for the healthcare professionals to associate with us. Here are the targeted locations by the top Infertility Medicine Company in Jaipur:
| | |
| --- | --- |
| Amber  | Bassi  |
| Chaksu  | Chomu  |
| Dudu  | Jamwa Ramgarh  |
| Phagi  | Sambhar  |
| Jaipur  | Kotputli  |
| Shahpur  | Sanganer  |
| Viratnagar  | Kotkhawada  |
| Kishangarh-Renwal  | Muzamabad  |
Quality Assured Product Range for Infertility and IVF Medicine Company in Jaipur by Adorshea 
Adorshea Bioceutics has brought up an astonishing range of gynae medicines. We never compromise on the quality of our medications that we provide across the nation.  We have a separate panel of QC experts who ensure strict supervision and inspection of the medicines.
Our entire range is prepared under state-of-the-art units using hi-tech production arrangements. We further ensure hygienic storage and packing of the products using air-tight layering with proper branding and labeling. Here are the quality product range that we offers: 
Aqua Progesterone 25mg Injection.

Cabergoline 0.5mg Tablets.

Calcium Citrate Malate, Vitamin D3 and Folic Acid Tablets.

Cholecalciferol 60000 IU Nano Shots.

Coral Calcium 750 mg + Vitamin D3 500IU Capsules.

Desogestrel and Ethinyl Estradiol Tablets.

Dienogest and Ethinyl Estradiol Tablet.

Drotaverine and Mefenamic Acid Tablets.

Drotaverine Injection (2ml).

Estradiol Hemihydrate Tablets.
Benefits of Associating with the Best Infertility Medicine Company in Jaipur | Adorshea 
Adorshea has devoted itself to offering a reliable medication selection for female healthcare issues and infertility. We have been committed to creating gynecological and infertility treatment for women ever since our company was founded. Our company uses unique and cutting-edge manufacturing procedures to provide solutions to treat issues from menarche through menopause. Gyne, Infertility, and IVF product lines are proudly promoted, offered, and traded by our ISO-certified company. We constantly strive to provide a wide range of healthcare solutions.
Free promotional tools.

Good profit margins.

24/7 customer support.

Affordable medicines.
So, if you are thinking about starting your own Infertility Medicine Company, Adorshea is the best choice for you. Establish your own business with us and get the maximum benefits. 
CONTACT INFORMATION
Address: SCO 1, Cheema Complex, Preet Colony
Near IDBI Bank, CHD-AMB Highway
Zirakpur. (SAS Nagar) – 140603
Phone: +91 9417149040
Email: Adorsheamailbox@gmail.com