Best infertility Medicine Range for Pharma Business – As India has seen a great fall in the Infertility rate in the year 2019 we can see how effective are these medicines which are helping in increasing fertility rate. Adorshea is a Top Pharma Company that is engaged in providing the Best infertility Medicine Range for Pharma Business. High-quality infertility Drugs and In Vitro Fertilization (IVF) range is available with us. These include vaginal wash, men infertility drugs, birth control pills, abortion pills, hormone medicine etc. Our medicines are made under GMP-WHO offering best quality, durability and efficacy.
Market demand for Infertility Medicines is increasing due to several issues occurring in a issues such as erectile dysfunction, pulmonary arterial hypertension, endometriosis, heavy periods, early puberty, and breast cancer in postmenopausal women etc. Pharma Business comprises many ranges but the Gynae, IVF and Infertility Medicine range is best. We are inviting people across India to invest in the Best infertility Medicine range for Pharma Business. Our associates to get own diverse DCGI approved list, marketing updates, monopoly distribution rights, attractive promotional tools, affordable rates and quick delivery etc.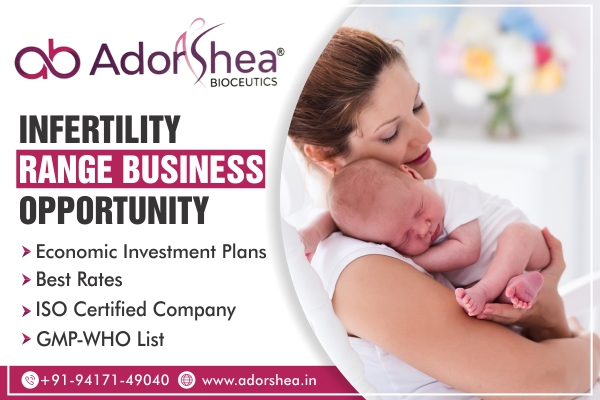 Know About Infertility Statistics of India
Indian Society of Assisted Reproduction has claimed that infertility currently affects 10-14 percent of the Indian population. Infertility cases are mostly found in urban areas and have caused increase scopes in the infertility Medicine range for Pharma Franchise Business. People are now being actively taking part in good treatment and paying a heavy amount for medicines. This has created a great demand for in vitro fertilization (IVF).
According to ICMR studies in the year 2019 the infertility rate in urban areas is seen as 4% and in rural areas 3.7%.
CAGR is expected to grow by nearly 8.5% in FY 2017-22.
Infertility rate is estimated to rise by more than 10 percent by the end of 2020.
Demand for Infertility Medicine in India
By viewing the infertility statics of India, Health professionals can see the market Demand of these Medications is likely to increase in the coming years.
Innovation in technology and better results had made the creation of demand for IVF and fertility medicines. This heavy demand has created a great scope for Pharma business in Best infertility Medicine Range.
Women are facing so many hormonal challenges in the body. Problems in reproductive organs such as ovulation, when the developed egg is delivered from the ovary treatment, which happens when sperm meets the egg in the fallopian tube after going through the cervix and uterus, etc. these growing problems has made a great market requirement of these medicines in Pharma Business.
Quality Infertility Product List 
The huge product range is available with Adorshea keeping in care of the best quality these products are manufactured under the strict guidelines by the Indian Medical Association. Some of the Products are explained below:
 Coenzyme Q – it is prescribed by doctors to women as it assists upgrades sperm wellbeing and egg quality for expanding chances of pregnancy.
Astaxanthin- powerful in male fruitlessness as it improves sperm wellbeing, sperm motility, and preparation rates. The carotenoid has intense cell reinforcement properties which are upgrades regenerative wellbeing.
Green Tea Ext. (EGCG) – it has oxidative properties that help improve the strength of sperm in guys. The green tea catechins have a constructive outcome on oxidative weight on the two guys' and females' fruitfulness.
Tripterygium Wilfordi (RootExt): this antifertility medication has no side effect and helps in the birth control of men.
Metformin HCL.: This drug is prescribed to patients suffering from type  2 diabetes and overweight. Help in controlling polycystic ovary syndrome (PCOS).
Leuprolide: An anticancer medication, it helps in treating hormone-responsive malignant growths, early adolescence in guys and females, and anticipation of untimely ovulation. This medication is  In Vitro Fertilization (IVF).
Tadalafil & Sildenafil: it is prescribed by health professionals when erectile dysfunction occurs.
IVF & Infertility Distribution Opportunity with Adorshea
Adorshea works intending to provide great treatment through its product. With the most experienced staff working with us we have generated so many business opportunities. Focusing on the healthy lifestyle of people we follow the best methodology in the processing of Medicines. Our best services are mentioned below :
Quick on-time delivery of products.
The best packaging material used.
Excellent promotional support kits.
Most affordable rates are available for products.
Huge range of gynecology and fertilization medicines.
Contact Info
Phone Number:  +91 9417149040, +91 8427 379 448
Email:  adorshea19@gmail.com