Best Gynae Company in Chandigarh – There are so many problems faced by women such as Ovarian cysts, Pelvic pain, Endometriosis, Uterine fibroids, infertility, etc. These growing ailments have created a huge market demand and opportunity for Pharma distributors, retailers, marketers etc. Adorshea'Best Gynae Company in Chandigarh and NCR Chandigarh is the best for genuine distributorships at economic plans and exclusive rights. 
Connect with the best drug provider in the Gynae range and Infertility medicines, Adorshea Bioceutics also known as the Best Gynae Company in Chandigarh.  Being specialized in providing Gynaecology and In vitro fertilization (IVF) range we are occupied with the best-experienced staff. Our product range includes antibacterial range, birth control pills, hormone therapy medicine etc. We aim to provide the best treatment to women through our quality medicines.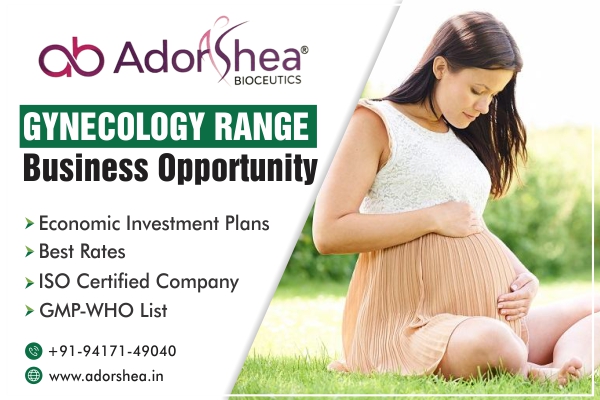 Demand for Gynaecology Medicine 
Over 60 percent of Females are going through Gynaecology problems in India. Mostly Gynae problems occur in women above age group 20-23. These mainly occur due to hormonal changes faced by women with the growing age. Primarily women going through pregnancy or facing challenges infertility requires the Gynae range of Medicine. Such issues are observed which leads to the unhealthy lives of women.
Every single day there are 77,5757 births average per day. With this growing increase, one can observe how fast is gynae Drug Medicine is required. Awareness drives in rural and urban areas had made people trust Indian science for the Obstetrics range of Problems. So by viewing this scenario we can predict how much demand is there for Gynaecology Drugs.
Best Gynaecology Medicine range 
Adorshea is working wth the perspective to produce the best quality products. We have applied most latest technology in manufacturing by our quality sources which work under schedule M. Our focus is to meet customer satisfaction. Rich experienced staff working with us is the main reason for the best products in the Gynae range. The best thing about our company is we are dealing with specialized medicine for women in Gynaecology Fertility Pharma, Female Fertility, Infertility Product, IVF ranges.
Levonorgestrel:
This is a birth control pill that is prescribed to be taken with 72 hours of unprotected intercourse. It is more effective if it is taken within the prescribed time.
Medroxyprogesterone:
Symptoms occurring in women such as abnormal uterine bleeding, not regular menstrual periods, etc can be cured with the consumption of this above-mentioned drug. 
Angelica Gigas eq. to nodakenin:
It is prescribed by doctors in cases like improper mensuration cycle and menopause occurring. By consuming these drugs women can help in improving their period cycle.
Clomiphene:
Women having problems like polycystic ovary syndromes are suggested to take this pill. This is generally an infertility pill that helps in controlling pregnancy.
Overture: 
It is generally known as D3 and micronized dehydroepiandrosterone (DHEA), acid tablets. This pill is recommended by healthcare professionals for controlling a reproduction system or implantation rate.
Gynae Business opportunity with Adorshea Bioceutics
Being committed to providing the best healthcare to women we are precise to our services. With a wide range of quality Drugs in obstetrics range, Adorshea has become the face of the Gynae range of medicines. We are here with an open opportunity with a huge product folio in the Gynaecology sector. CDSCO, USFDA, GP, TGA, IP, and WHO-GMP are some of our regulatory authorities.
Being a low investment business and heavy profit margin this is a golden chance of being an entrepreneur and rule your own business. Here are listed some top services of Adorshea Bioceutics which will make you trust on us:
Monopoly based business

Best rate of products available

Marketing support 

DCGI approved products.

Pro fertility and IVF Drug range.

Best efficiency, affordability, and durability.

Obstetrics Medicine availability.
Contact Information
Phone Number: +91 9417 149 040, +91 8427 379 448