Infertility Medicine Company In Karnataka– Karnataka is one of the few states where the government is taking deliberate measures to provide high-quality healthcare. The people of Karnataka have healthy lifestyles and are technologically evolved, yet they are still unaware about male and female infertility, which is on the rise in the state. However, the market's need for infertility medications is also rising, and over the past several years, Adorshea has occupied a large portion of the infertility medicine market and thus we have come forward as the best Infertility Medicine Market in Karnataka while continuing to make an effort to provide high-quality infertility medications in the state. 
IVF and fertility medications are more in demand in Karnataka as a result of the rise in cases of infertility in both males and females. People have been spending money on high-quality fertility drugs and hormones to increase their chances of getting pregnant. We are the leading supplier of Infertility Medicine in Karnataka with GMP and WHO certification. Natural micronized progesterone pills, cabergoline pills, vaginal wash, estradiol hemihydrate pills, abortion pills, PCOS meds, hormone treatment pharmaceuticals, etc. are only a few of our high-quality products, With our network of more than 200 colleagues, we provide exclusive rights to distribution, wholesale, and marketing organizations for infertility treatments at affordable investment plans. With our exceptional experience, we are able to provide effective results in this medical field. Above all, become a part of our Infertility Medicine Company in Karnataka and achieve the best outcomes.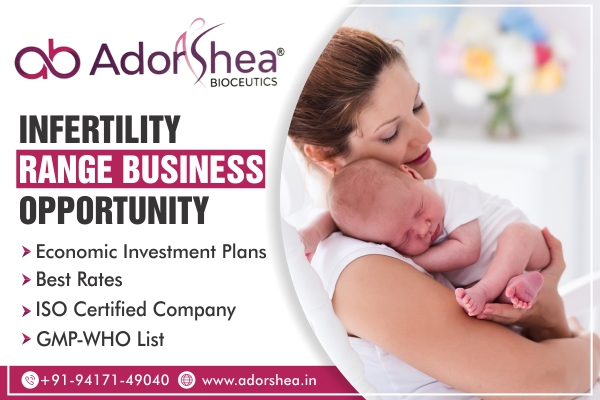 For Further information and query about Infertility medicine company in Karnataka call us at +91 9417 149 040, +91-8427379448 or email at Adorsheamailbox@gmail.com 
Leading IVF and Infertility Medicine Company in Karnataka- Adorshea 
With a large selection of products and a staff with a wealth of knowledge, we have achieved success in the field of gynecology, infertility, and IVF treatment. Our certified items are quite abundant and in high demand in the marketplace. Regarding services, we provide exceptional services by utilizing cutting-edge technology, including swift product delivery, the best packaging material use, quality control measurements, an online platform, and more. We strive to give ladies who are afflicted with various diseases the greatest possible health. Here are some of the most interesting details regarding our business: 
Best GMP and WHO Manufactured Products

DCGI Approved List

Wide Network of Logistic Partners

200+ Associates Pan India

We are Recommended by Sexologists and Gynecologists

Thousands of Healthcare Professionals Connected with Company
Quality Assured Products offered for Infertility Medicine Company in Karnataka- Adorshea 
We provided a broad range of products, including IVF and infertility treatments, that are high in quality and effective. By creating high-quality products, we have attracted numerous clients. Highly skilled people with extensive experience in this industry endorse and promote our products. A significant source of vitamins, minerals, and nutrients is also found in the materials and compositions used in the production of gynecological and infertility medicines. The following is a list of a few product compositions from our IVF and infertility medicine ranges:
L-Arginine, Astaxanthin, PABA, Vitamins &Minerals

Dehydroepiandrosterone (SR) Ê75mg Ê+ Vitamin D3-3000 IU+Folic.Acid 4.5mg

Melatonin 3mg+Myoinositol 1.1gm+D-Chiro.27.6mg+L-Methylfolate 200 Mcg+Vitamin D3 400 Iu

Metformin Hcl.500 mg +Myoinositol. 550MG+ D-CHIRO-INOSITOL13.6MG + L-METHYLFOLATE 0.5MG+ MECOBALAMIN 750MCG

Coral Calcium +Vitamin D3.

Astaxanthin+Ferrous Gluconate+Zinc Oxide+L-arginine+Pyridoxine HCI+Lycopene+FolicAcid

Tripterygium Wilfordi (RootExt)20.mg+Green Tea Ext.(EGCG)400.mg+Vitamin D3.1000.IU

Natural Micronised Progesterone 300mg

Natural Micronised Progesterone 200mg
These are the most valuable sources that are produced specifically for women's healthcare and are very successful in treating. Tablets, injections, capsules, and ointments are just a few of Adorshea's many products, all of which are in high demand. Additionally, everyone is fairly treated by the price supplied for these medications. Additionally, the business is creating more products to meet the needs of men and women in terms of healthcare. 
Vacant areas in Karnataka for Infertility Medicine Business- Adorshea 
We want every person to have access to our product, and we believe that everyone deserves a good life. On the other hand, we provide a transparent business that provides customers and associates with a clear vision for partnering with us. However, in order to lessen the impact of unidentified ovulation issues, we are distributing our product to the people of Karnataka. Furthermore, for the benefit of our customers, we are expanding our IVF, Gynae, and Profertility product lines. So, here are some locations where you can easily distribute products: 
| | |
| --- | --- |
| Bengaluru  | Shivamogga |
| Kalaburagi  | Ballari  |
| Vijayapura  | Davanagere  |
| Tumakuru  | Mysuru  |
| Chikkamagaluru  | Belagavi  |
| Udupi  | Bidar  |
| Hospet | Hassan  |
| Kolar  | Mandya   |
| Chitradurga  | Richur  |
Benefits of Investing In Infertility Medicine Company In Karnataka- Adorshea 
Adorshea has committed itself to provide an efficient medicine selection for infertility and female healthcare difficulties. Since our founding, we have been dedicated to developing gynecology and infertility medicine for women. Our company creates formulas to treat problems from menarche through menopause using distinctive and cutting-edge manufacturing techniques. Our business is delighted to promote, provide, and trade the Gyne, Infertility, and IVF ranges and is ISO certified. Our ongoing drive is to offer a wide variety of healthcare solutions. 
We are committed to providing the best IVF and gynecological products for women's health.

Certified units participate equally in product mobilization.

We consistently meet our customers' needs and ensure their satisfaction.

For products to be effective, all high standard processes and quality measurements are used.

With a significant increase, we have reached a clinical pregnancy rate, and leading medical experts highly endorse our medications.

We grant extraordinary monopolistic privileges that enable us to expand our business to new heights.
Conclusion 
We are defining modern-day loyalty by establishing connections with customers on a far deeper level based on common concerns, morals, and ethical principles. One of the best pharmaceutical company in Karnataka, Adorshea, focuses solely on gynecological and male/female infertility medications for women. We have been putting all of our effort into developing medications that will benefit your sexual and reproductive health.
CONTACT INFORMATION
Address: SCO 1, Cheema Complex, Preet Colony
Near IDBI Bank, CHD-AMB Highway
Zirakpur. (SAS Nagar) – 140603
Phone: +91 9417149040
Email: Adorsheamailbox@gmail.com