Infertility Medicine Company in Delhi –  Adorshea is a trusted name in the marketplace which provides all the products related to infertility and IVF drugs. The company deals in a broad range of products which are used for different purposes such as abortion pills, birth control pills, and hormone balance medications etc. Delhi is the hub of industries and we are looking for interested people who have the zeal to deal in infertility range at a very genuine business deal. Our company is planning to cover different locations in Delhi.
Delhi is an urban area, here every one out of six couples is reported to be affected with infertility. Adorshea has a huge range of Gynaecology and infertility range products. Our company comes to Top Infertility Medicine Company in Delhi. Earlier women were not much concerned with their health and sexual wellness. But over time, advancement in medical sector and change in society has improved and boosted many horizons of the pharmaceutical sector as well as medical aid. Our company is a customer-oriented company who is completely working for the 100% satisfaction of the clients.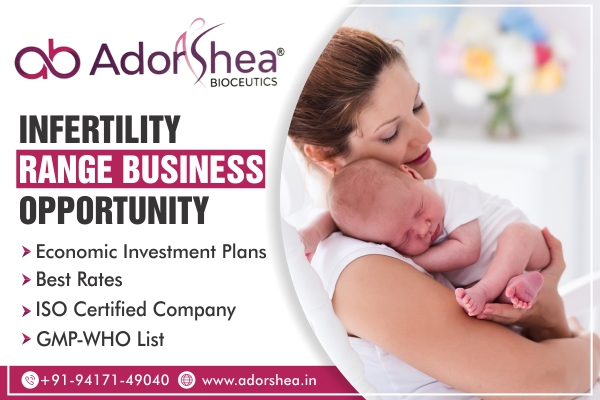 If you are planning to add infertility range of products in your pharmaceutical business venture in Delhi then Adorshea Biocutics are here for you. We are providing a safe and effective portfolio of products. To get detailed information about the product portfolio, connect overcall – 9417149040.
Why Invest in Infertility Medicine?
As per a research survey of the Leading Healthcare Company, it has been found that the only three out of 30 million infertile couples pin their hopes on attaining parenthood through treatment. According to a new report of Allied Market Research (AMR), the in vitro fertility (IVF) services in India are projected to reach $775.9 million by 2022, registering a CAGR of 16.6 percent from 2016 to 2022 opening newer avenues in the field of Assisted Reproduction Technology. Over the decades the cases are becoming double in the nation.
Being a capital of the nation. It has high demand of infertility medications because people are coming across the nation for access to adequate treatment and medications. The government is also supporting it by contributing to the medical sector. If you are looking to start a business venture and thinking to invest money then go for Infertility Medicine Company in Delhi for a successful and profitable one.
Leading Infertility Company in Delhi – Adorshea Bioceutics
Adorshea Bioceutics is an ISO certified Gynecology Company who is indulged in manufacturing and exporting different types of gynecology, IVF, and fertility ranges. The company is working on its prime agenda to provide female healthcare medication all around the women. Women are the creator of everything. It is very important to keep all the females healthy and fit. Here are the key factors of our company which makes it best in the industry –
The manufacturing of the gynecology drugs and infertility medications takes place under GMP-WHO manufacturing units.
Our complete range of portfolio is approved by the DCGI and FSSAI.
The products deliver by the company in the market is available at very cheap prices.
The company follows strict measurements against the quality maintenance of the products.
Factors Behind the Demand of Infertility Medications
Here is the list of factors who are responsible for the mounting growth of infertility medications –
Cost-efficiency of hospitals and healthcare treatments.
Our healthcare industry attracts a lot of patients who are suffering from infertility problems even from the outside borders.
In India, IVF services and treatment is cheaper as a comparison to other countries.
Change in lifestyle patterns, late marriages, and late family planning is the main reason of declining the fertility rate.
Merits of Infertility Business in Delhi With Adorshea
Our company is looking for potential and knowledgeable business associates who are dedicated to their work. There are so many exciting offers and business opportunities that we offered to our employees on associating with us. The company believes that business associates act as a bridge between the customers and the company. You can trust us for our services. We deliver what we promise to deliver. Here are the highlighted advantages that we give to every associate.
The associate has complete liberty to take all the decisions related to the company.
There is no interference from the company in your work.
The associate will get monopoly rights for the distributor from the company to overcome the cutthroat competition.
Marketing and promotional well-planned strategies are provided to them to boost the sales of the medications in the marketplace.
Contact Information
Address: SCO 1, Cheema Complex, Preet Colony
Near IDBI Bank, CHD-AMB Highway
Zirakpur. (SAS Nagar) – 140603
Phone: +91 9417149040