Gynecology Pharma Company in Meghalaya– Adorshea is a dedicated, reputable pharmaceutical company that specialises in gynaecology for the benefit of women's health. We are an ISO-certified company that makes sure our gynecological products are created in accordance with WHO and GMP standards. The company's very efficient infertility medications and products have earned it a respected reputation in the Indian pharmaceutical industry. Our main goal is to give both men and women who are struggling with infertility illnesses better medical care. By making an investment in the top Gynecology Pharma Company in Meghalaya, you may raise awareness of fertility among a sizable population.
We are introducing our gynecological business opportunity in Meghalaya in this blog article. The lack of funding and human capital in Meghalaya's health sector is well known. The state's residents struggle with a dearth of medical resources. As a result, the government has plans to strengthen the pharmaceutical sector in order to offer better healthcare services in the state's urban and rural areas. One of the Gynecology Pharma Company in Meghalaya, Adorshea, is dedicated to offering an updated selection of treatments for infertility.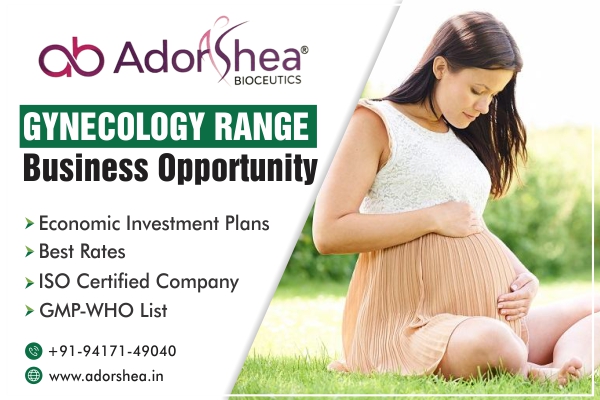 If you're looking for the best medicine selection in the gynaecology field, call us at +91 94171 49040 or send us an email at adorshea19@gmail.com. We cordially invite you to join our exclusive pharmaceutical line for managing women's health at various phases. Additionally, you can generate business with our 24 hour service as needed.
Fastest Growing Gynecology Medicine Company in Meghalaya- Adorshea 
One of the top marketing and manufacturing firms for gynaecological products in India is Adorshea. We specialise in providing a range of healthcare items to those with infertility difficulties. Our researchers are committed to developing a cutting-edge product line to suit the growing demand for gynaecological treatments as a result of this growth in demand. Our ability to deliver high-caliber goods and services has helped us reach the peak of success.
Here are some salient characteristics of our business:
The business offers FSSAI and DCGI-approved gynecological Products.
A group of knowledgeable and talented workers from our company is aiding us in achieving effective manufacturing.
For the production of items of the Highest Quality, we employ cutting-edge machinery and sophisticated technologies.
The Company has a wide range of Gynecology products to offer.
Best Quality Gynecology Products Formulated at Adorshea
Because we place a strong emphasis on quality, our manufacturing partners use the greatest compositions and formulas to provide the best medicines we can for the Gynae line. Because these goods are ISO and GMP certified, they are packed using brand-new equipment following quality testing. Here are a few of the goods we offer:
 

Tablets

Capsules
Ointments
Syrups
Injections
Sachet
Targeted Locations for starting a  Gynecology Distributor Business in Meghalaya
Adorshea has a wide distribution network all throughout India to make high-quality gynecological drugs accessible in every corner of the country. We are focusing on several underutilized areas of Meghalaya and welcoming wholesalers, stockists, retailers, market agents, and business owners for the gynecological pharmaceutical distribution industry there. Owning our gynecological pharmaceutical firm in Meghalaya will give you excellent commercial exposure and pharma industry experience.
We are Aiming at the following areas in Meghalaya:
Garo Hills Division 
East Garo Hills (Williamnagar)
South Garo Hills (Baghmara)
South West Garo Hills (Ampati)
West Garo Hills (Tura)
North Garo Hills (Resubelpara)
Khasi Hills Division 
West Khasi Hills (Nongstion)
Ri-Bhoi (Nongstoin)
East Khasi Hills (Shillong)
South West Khasi Hills (Mawkyrwat)
Jaintia Hills Division 
East Jaintia Hills (Khilehriat)
West Jaintia Hills (Jowai)
Key Benefits of Joining Gynae Distributor and Supplier in Meghalaya 
In Meghalaya, Adorshea is a reputable gynecological pharmaceutical company with a focus on women's health and infertility care. We are addressing issues with public health including male and female fertility, PCOS, anovulation, etc. by offering special formulations. We are providing all pharma experts with a business opportunity with budget-friendly investment plans. We can handle large-scale production thanks to our cutting-edge manufacturing facilities. For the storage of goods, a sizable warehousing facility is kept.
The following are some advantages of making an investment in the best gynecology pharma Distributor Business in Meghalaya:
To eliminate the possibility of contamination and spoilage, we offer infertility products in the best packaging available.
By offering the greatest promotional items, including visual aid, visiting cards, diaries, brochures, writing pads, calendars, pens, presents, MR bags, etc., the company supports its clients.
We ensure that the orders placed by our cherished partners are delivered on schedule.
Collaboration between GMP and GLP manufacturing at Adorshea.
For more Details Contact
Name: Adorshea Bioceutics
Contact no: +91 94171- 49040
Email: adorshea19@gamil.com