Gynecology Pharma Company in Ahmednagar, Pune, Mumbai, Nasik – Personal hygiene and health is a matter to be deeply concerned about. In some areas, the availability of quality medicines is very low. For people in such areas, Adorshea, the leading Gynecology Pharma Company in Ahmednagar, Pune, Mumbai, and Nasik has taken an initiative to provide top-quality products at affordable rates. Our products are available in various formulations like tablets, soft gel capsules, injections, nano shots, syrup, vaginal wash and others.
Adorshea is a renowned Gynecology Pharma Company in Ahmednagar, Pune, Mumbai, and Nasik that welcomes people who are interested to invest in this sector to join hands with us to start their own business. We provide exclusive benefits to all our collaborative partners like free promotional support, timely delivery, monopoly rights, and others. If you are looking for a reliable pharma company for genuine deals, you must get in touch with us.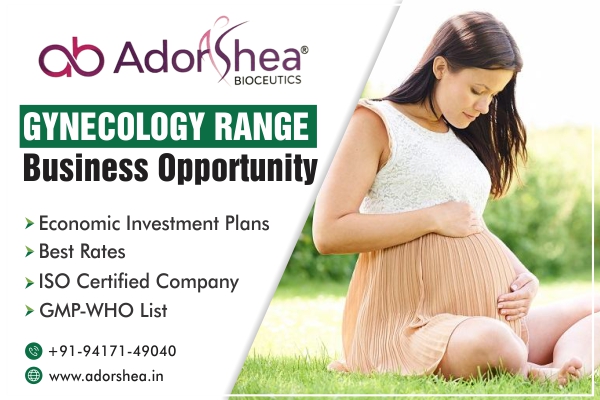 For more details, you can contact us anytime by calling on 9417149040 or drop an email at adorshea19@gmail.com
Best Gyne Medicine Company – Adorshea
We are the market pioneer in developing the potential of high-quality medicinal formulations. We are recognized for our wide selection of medicinal formulations in the gynaecology and IVFdrug sector. The products were created under the supervision of experts. Take a peek at our company's standout quality:
For the high-end results for the clients, skilled procedures and production metrics have been used.

All prescription drugs have DCGI approval. We are quite delighted to have recommended the greatest drug in its category for gynaecology.

Our association provides GMP and WHO-certified units that adhere to all the important international requirements.

We look out for our business partners by providing them with a monopolistic connection option. You will find it simple to establish your presence in the gynaecological market.

All of the company's products are priced reasonably so that demand from all different types of customers can be easily met. We provide adjustable programs that can be afforded by every distributor. The distributors continue to take rationality into account.
Wide Range of Quality Assured Products
The products that we offer are highly safe and effective to use. Formulated with quality extracts and under the supervision of the best pharmacists, our products are launched after being verified and certified by WHO and DCGI. We are known for the best quality of formulation. Our products are available in various formulations like tablets, capsules, soft gels, sachets, syrups, injectables, etc. Some of our various product compositions include:
Calcium Citrate Malate, Vitamin D3 and Folic Acid Tablets

Cholecalciferol 60000 IU Nano Shots

Desogestrel and Ethinylestradiol Tablets

Folic Acid, Methyl-tetrahydrofolic acid, Glucosamine Salt 600mcg + Pyridoxal 5 – Phosphate 500mcg + Methylcobalamin 1500mcg Table

Drotaverine Injection (2ml)

L-Arginine, N- Acetylcysteine, Coral Calcium, Grape Seed Extract, Vitamin C & Lactobacillus acidophilus Tablets

Melatonin, Myoinositol, D-Chiro, L- Methyl Folate & Vitamin D3 Effervescent Tablets

Natural Micronized Progesterone 300mg Sustained-Release Tablets

Norethisterone Acetate 10mg

Soy Isoflavones 90mg, Evening Primose Oil 22.5mg, Multivitamins & Antioxidants Veg Capsules

Vaginal Wash
Why invest in the Gynaecology Product Range?
Adorshea pledges to serve everyone in Ahmednagar, Pune, Mumbai, and Nasik to provide the market with improved growth prospects. We will make every effort to support the gynaecology healthcare sector in these cities. Our business will assist the partners in obtaining the exclusive right of distribution for the goods in the targeted regions. The affiliates will undoubtedly benefit from less market competition and a suitable location for presenting their services and goods as a result of this.
Here are some factors for why you must in the gynaecology and infertility range of medicines – 
One WHO research states that 6, 583 million dollars were the expected market size for gynaecology in 2018.

The other source claims that the estimated profit for the gynaecology drug was USD 8.9 million.

If the market's CAGR were estimated, it would have been about 8.2% from 2019 to 2025. If the expected increase is taken into account, the total at the end of 2025 will be USD 11, 429 million.
For more details contact us!
Contact Details
Call us: +91 94171- 49040
Email: adorshea19@gamil.com