Gynecology Pharma Company in Andhra Pradesh- Andhra Pradesh is one of the largest States in India which makes a significant contribution to the country's GDP growth. Gynecology medicines have great demand in this state and most of the business owners are looking for the best pharma company which deals in infertility and Gynae range, medicines, and products. So, if you are searching for the same, Adorshea is the leading WHO-GMP certified Gynecology Pharma Company in Andhra Pradesh which deals in a wide range of gynae and infertility medications.  All of our medications are formulated in GMP-specialized units which include tablets, syrup, soft gel capsules, injections, sachets, etc. 
Starting your own business in Infertility and Gynae range in Andhra Pradesh is beneficial and profit-earning. Adorshea is known as the best Gynecology Pharma Company in Andhra Pradesh which provides genuine distribution business opportunities. We provide our associates with various benefits like promotional tool range, the latest marketing updates, high-quality product ranges at affordable rates, unique monopoly rights, and hassle-free delivery of the products.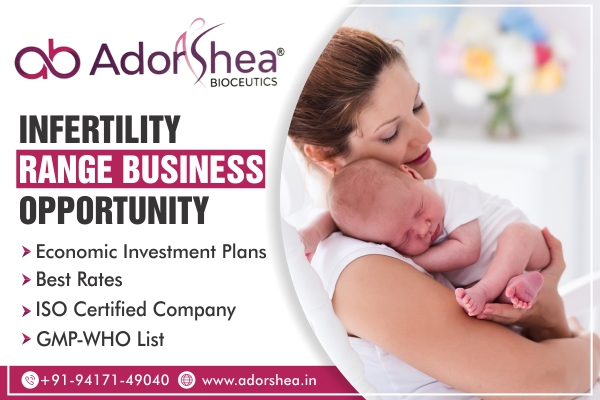 If you have more queries and want to know more about Gynae Pharma Company call us at  +91-6280185695 or email us at adorshea19@gmail.com. 
The demand for Gynecology Pharma Product Range Business in Andhra Pradesh 
As we all know that investing in the pharmaceutical business in India is quite beneficial and profitable, and gynecology is one of those therapeutic areas, whose demand is increasing day by day. Women's hygiene and the female reproductive system are directly related to gynecology. Gynecology medications aid in the treatment of illnesses like STDs, pregnancy, menstruation, reproductive issues, and hormone disorders, among others. In addition to medications for pregnancy, the postpartum period, and midwifery, obstetrics medications are a component of women's healthcare. 
The need for high-quality gynecology medications has increased recently. Anyone who sees potential in this area can launch a business with Adorshea, the top gynecology pharma company in Andhra Pradesh. The advantages of associating with  Adorshea to launch a gynecology business in Andhra Pradesh include the following: 
An ISO-GMP-certified company follows international standards 

You can associate with Adorshea with a little investment plan. 

All of our associates get unique monopolistic rights 

The chances of return on investment are high when you collaborate with the top Gynecology Pharma Company in Andhra Pradesh. 
Leading Gynecology Pharma Company in Andhra Pradesh | Adorshea 
One of the best and most reputable pharmaceutical companies in India producing gynecological medications is Adorshea. We provide high-quality, reasonably priced gynecological items. Even the gynecological products in our product line are in high demand. We aspire to the highest standards for our products and medications' quality, innovation, superiority, and accessibility. The top Gyne-Infertility Company in Andhra Pradesh has a solid reputation among medical specialists and possesses the following qualities: market understanding, business acumen, and management. Other characteristics of our business include: 
Every medication is formulated under strict rules and regulations

All the medications are verified by the quality assurance team and are made by using the pure and best quality raw extracts 

Our company has highly qualified and skilled professionals who help us to meet all the quality standards 

Our company provide 24/7 customer support 

Provides beneficial deals to our associates like promotional tools, monopolistic rights, marketing tools, and many more. 
Locations Available for Gynecology Pharma Company in Andhra Pradesh 
In the Coastal Andhra and Rayalaseema divisions, Adorshea has covered many areas of Andhra Pradesh. In practically every industry we serve, we grant our clients exclusive rights. In prestigious areas like Visakhapatnam and Vijayawada, we provide business chances. By offering you a wide range of opportunities for advancement as a part of our team, our organization hopes to earn your satisfaction. We want to expand our gynecology business in Andhra Pradesh. Here are the following locations in Andhra Pradesh for Gynecology Pharma Company: 
Anantapur

Chittoor

East Godavari

Guntur

Kadapa

Krishna

Kurnool

Nellore

Prakasam

Srikakulam

Visakhapatnam

Vizianagaram

West Godavari
High-Quality Gynecology Product and Medicines List | Adorshea 
We at Adorshea, follow the DCGI-approved compounds for the enhancement and improvement of reproductive problems and a wide range of products. Our company introduced the formulating assets of the medicines. obtaining scientific breakthroughs for the creation of new products. 
Aqua Progesterone 25mg Injection

Cabergoline 0.5mg Tablets

Calcium Citrate Malate, Vitamin D3 and Folic Acid Tablets

Cholecalciferol 60000 IU Nano Shots

Desogestrel and Ethinyl Estradiol Tablets

Dienogest and Ethinyl Estradiol Tablet

Drotaverine and Mefenamic Acid Tablets

Drotaverine Injection (2ml)

Iron Pyrophosphate Liposomal with Vit-C, Vit. B12 and Folic Acid Tablet

Isoxsuprine Hydrochloride 10mg Tablets

Fenticonazole 600mg Capsules

L-arginine Effervescent 1.5gm Tablet

L-Arginine, N- Acetylcysteine, Coral Calcium, Grape Seed Extract, Vitamin C & Lactobacillus acidophilus Tablets
Conclusion 
The administration of the top gynecological goods and the welfare of women are priorities for Adorshea. We are investing our knowledge and research efforts to find the most cutting-edge solutions to the most pressing problems affecting women's health. Adorshea is the leading Gynecology Pharma Company in Andhra Pradesh you can avail of various benefits by investing in our company. 
Contact Information 
Name: Adorshea 
Address: SCO 1, Cheema Complex, Preet Colony, Near IDBI Bank, Chd-Amb, Highway, Zirakpur.(SAS Nagar)- 140603
Phone: +91-6280185695
Email:  adorshea19@gmail.com.